Home / Project/Our company in the 11th China International Starch and Starch Derivatives Exhibition
Our company in the 11th China International Starch and Starch Derivatives Exhibition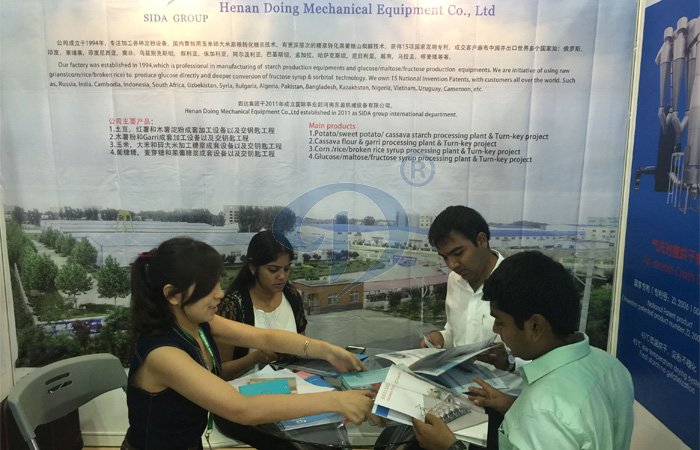 Our company in the 11th China International Starch and Starch Derivatives Exhibition
Our company is specialized in manufacturing of starch production equipments and glucose/ maltcose/ fructose production equipments. We are initiative of using raw grains (corn/ rice/ broken rice) to produce glucose directly and deeper conversion of frutcose syrup & sorbitol technology. We own 15 National Invention Patents, with customers all over the world. Such as, Russia, India, Cambodia, Indonesia, South Africa, Uzbekistan, Syria, Bulgaria, Algeria, Pakistan, Bangladesh, Kazakhstan, Nigeria, Vietnam, Uruguay, Cameroon, etc.
From June 21th to June 23th, 2016, our company joined the 11th China International Starch and Starch Derivatives Exhibition in Shanghai. Many clients from all over the world come to our booth to communicate about the Cassava/ Potato/ Sweet Potato Stacrh/, Cassava Flour, as well as Garii processing line.
1. Nigeria client negotiated about the cassava starch processing line
2. India client discussed business about cassava peeling machine
3. Indonesia client come to have a meeting about the cassava flour and the cassava peeler
4. Negeria client talked the cassava starch processing plant project over
Please leave your contact information, our engineers will contact with you within 24 hours. Your information will not be published.