What is the cost of garri frying machine?
Nigeria is the world largest producer of tapioca tubers. Garri production is also a lucrative business in Nigeria. In the garri production procedure, tapioca to garri frying is the most crucial step, which has effect on the taste and quality of the finished product garri. Thus, frying garri with a good garri frying machine is plays a important role in garri making. So, what is the cost of a good configuration garri frying machine in Nigeria?
Different types of garri frying machine in Nigeria have different costs.
There are different types of garri frying machine in Nigeria. Some of them are locally fabricated while others are imported from other countries as China. Locally fabricated garri frying machine is usually very affordable as they make use of readily available materials and importation duties are virtually non-existent.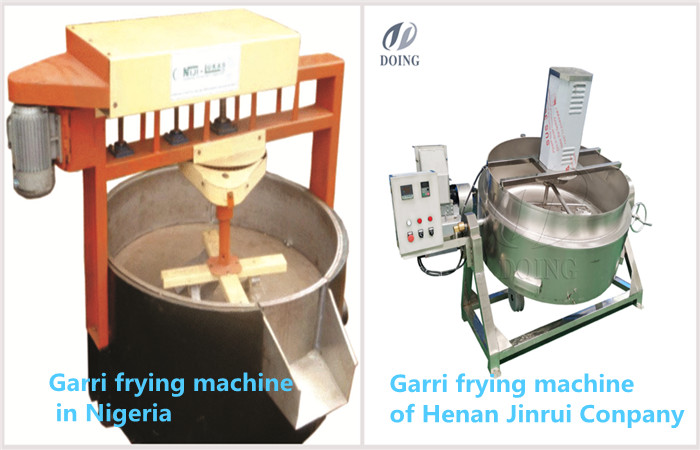 Two types of garri frying machine
While imported garri frying machine is different from the local one. Imported garri frying machine is multi-function as durable material. There are also different in capacity, configuration, material and brand. Henan Jinrui company's garri frying machine, for example, has special design: Eccentric mixing function, double layer with conduction oil to heat evenly, automatically temperature and stir, three heating ways you can choose. Such type of garri frying machine will be better than those semi-automatic garri frying machine which is powered by woods. Of, course, the cost would be higher than the local one as it needs importation duties.
Different channels to get garri frying machine in Nigeria also have different costs.
Market retailer: Market retailer can be regarded as a agency which can find machine for you. You don't need to waste a lot of time to find tthe garri frying machine, you just tell them your requirements, they will provide all information for you. But because they don't produce machine, you need to pay extra money for the service of finding the garri frying machine. Furthermore, If any problems on the garri frying machine, the after-sale service of the garri frying machine could not be effectively guaranteed.
Supplier: Supplier can customize the garri frying machine for you directly with factory cost. You just need to find the tapioca processing machine manufacturer by Alibaba or Google. Such suppliers, most of them, will provide you with both the good garri frying machine or other tapioca processing machines and more suitable project according to your needs. Also, the machine's cost provided by factory will be cheaper than retailer. So it is better that you can find reliable factory for your garri frying machine.
All in all, if you need to get the quotation of the garri frying machine, welcome to contact Henan Jinrui company by e-mail, whatsapp, phone or leaving message on website. We a 10+ years rich experience manufacturer of tapioca starch, tapioca flour and garri processing machine, has many garri, starch, flour project in Nigeria, Ghana, Uganda, Tanzainia etc, and has professional installation team and excellent technology for tapioca project.
Leave a message about What is the cost of garri frying machine?