Efficient cassava starch extraction equipment

Date:
2018-10-24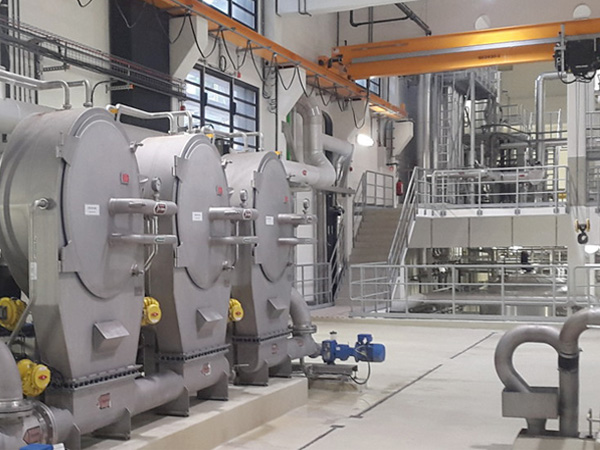 As a cassava processing machine manufacture and supplier, Doing Company offered cassava starch extraction equipment main contain dry sieve, paddle washer, rasper, centrifuge sieve, fine fiber sieve, hydrocyclone, peeler centrifuge, flash dryer. You need to know this is one set of modern cassava starch extraction equipment with advanced technology, ued for high quality cassava starch processing.
Now, Thailand's cassava starch exports are the largest in the world market, while Africa, as the largest cassava producing area, has very little production of cassava starch, and there is less high-quality cassava starch that can meet various industrial production requests, the method to solve this contradiction is undoubtedly Is the introduction of advanced machines.

DOING cassava starch extraction equipment
Here is the introduction of Doing Company advanced cassava starch extraction equipment production process:
Step 1 selecting: The cassava roots are sorted to select wholesome roots for processing, remove the decaying cassava.
Step 2 cleaning: In the process of dry sieve rotation, remove dirt, sand, small stones, weeds and other impurities on the surface of cassava.
Step 3 cassava washing: Doing paddle washer is an efficient cassava starch extraction equipment, adopt its countercurrent washing principle, by the effect of paddle ratating, cassava tubers flows in the converse direction against water current, makes cassava washing completely and eliminate sand and mud effectively.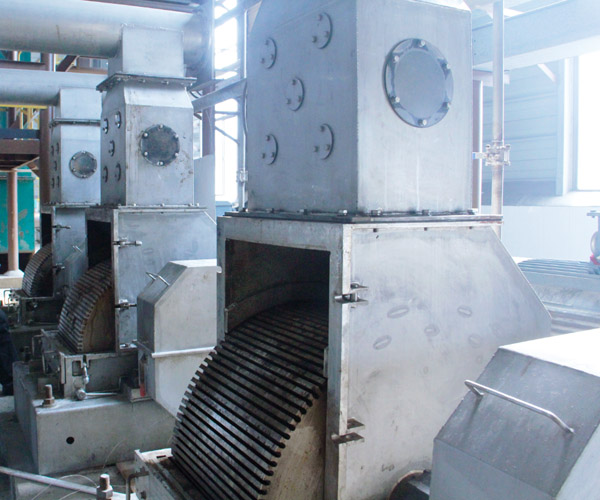 DOING rasper structure
Step 4 cassava rasping to free starch: The main cassava starch extraction equipment used to crush cassava to extract starch, high speed, high crushing coefficient, even particles, high extraction rate, bidrectional rasping, rasper part use the modular design, easy change.
Step 5 separation: Adopt centrifuge sieve in this part which is mainly used to separate the fiber and starch slurry, DOING company centrifuge sieve guarantee a high screening efficiency, oil resistant and dirt proof.
Step 6 fine separation: This part purpose is to separating small fiber from cassava starch slurry, complete by fine fiber sieve, it's an essential machine for high quality cassava starch extraction.
Cassava starch production factory
Step 7 concentrating and refining: Hydrocyclone station is used to remove fiber, protein and cell cap out of starch milk to concentrate and delicate scrubbing starch milk. Hydrocyclone function includes concentrating, refining, washing.
Step 8 dewatering: Now, the siphin peeler centrifuge is the most suitable one cassava starch extraction equipment used for cassava starch dewatering process, shorten separating time, increase production capacity by 50% and decrease moisture content to 36.5%.
Step 9 drying: Industrial large capacity cassava starch extraction equipment adopt flash dryer for cassava starch drying, can guarantee the moisture uniformity of the finished starch, after drying, starch moisture 12%-18%, whitness.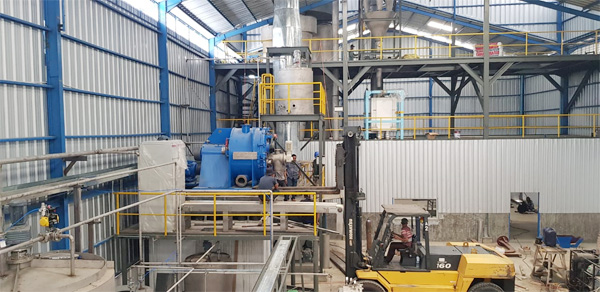 Cassava starch production factory
Step 10 sieving and packaging: DOING company offer you the professional cassava starch sieving machine and automatic packing machine.
To facilitate these aspects of cassava starch extraction or processing, Doing Machinery design & develop cassava starch extraction equipment that meet varied requirements in starch & its derivative manufacturing units. Doing Company advance fabrication facilities, team of industry professionals, technical know how enable us to meet client's specific requirement by developing custom design machinery. We also excel in establishing of complete plants for cassava starch extraction equipment & execute turnkey projects.
Any questions or requests about the cassava starch extraction equipment, weclome to contact us, our engineer will give you a feasibility program of cassava starch extraction equipment according to you requirement.
Leave a message about Efficient cassava starch extraction equipment