Cassava chips slicer
A survey conducted by the African Agricultural Technology Foundation during the 2004 Triennial Symposium of the International Society for Tropical Root Crops Africa Branch (ISTRC-AB) revealed a consensus among African cassava experts that the single most important intervention to increase the competitiveness of the cassava industry was the adoption of mechanization in cassava production. Such mechanization will enable reduction of labour costs, thus reducing the cost of cassava as a raw material and stimulating reliance on local cassava as a competitive raw material various industries.
Clearly, therefore, in order for cassava to play a role in the economic growth of cassava producing countries, an integrated approach combining large investments in industries using cassava as a raw material to foster demand for cassava; small and medium scale investments by entrepreneurs to the large industries; and adoption of labour saving devices in cassava production is essential.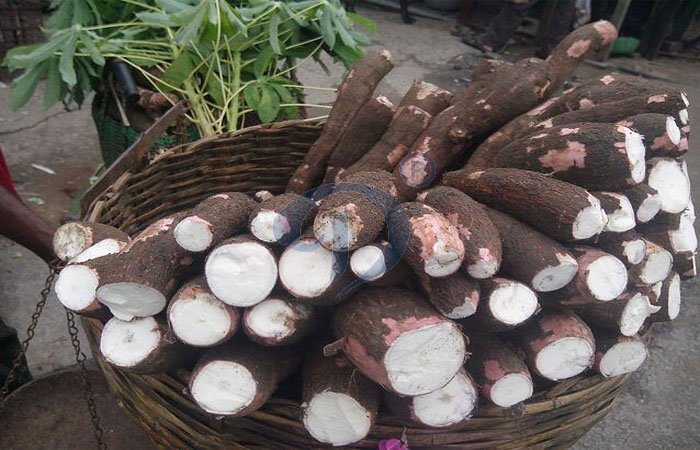 Cassava
The African Agricultural technology Foundation, headquatered in Nairobi, Kenya and the International Institute of Tropical Agriculture, based in Ibadan, Nigeria jointly brought together a team of 20 experts on cassava production, processing, marketing and utilization from both the public and private sectors with the mandate to identify key elements essential for formulating a strategy to guide the industrialization of cassava in Africa. The meeting was held at the IITA campus in Ibadan, Nigeria from 14-18 November 2005. The Meeting targeted the preparation of the blueprint for the industrialization of cassava in African countries can follow to turn cassava into an engine for economic growth. During the meeting, using Nigeria as a microcosm, an in-depth analysis of the major cassava sub-sectors comprising ethanol, livestock feed, food and starch in the industrialization of cassava in Africa was done.
Cassava chips slicer introduction:
a. Cassava peeling: Production of cassava chips starts with the peeling of the cassava. Peeling can be done mechanically or manually. Mechanical peelers peel as much as 2,400 –2,500Kg per hour with a wastage rate of 30-40% while manual peeling does 22Kg per man hour and wastage of 20-25%. Mechanical peelers are problematic because of the non-uniform nature of the cassava roots and the irregularity in size which make smooth peeling difficult. Also, the thickness of the skin, the texture and the strength of adhesion to the flesh of the tuber differ from specie to specie thereby making over-peeling and under-peeling possible. As a result of these problems, processors prefer manual peeling for now till the mechanical is perfected.
b. Cassava washing: The peeled tubers are thoroughly washed to remove all dirt and sand that may adhere to them. Export requirements insist that sand content should not be more than 2%.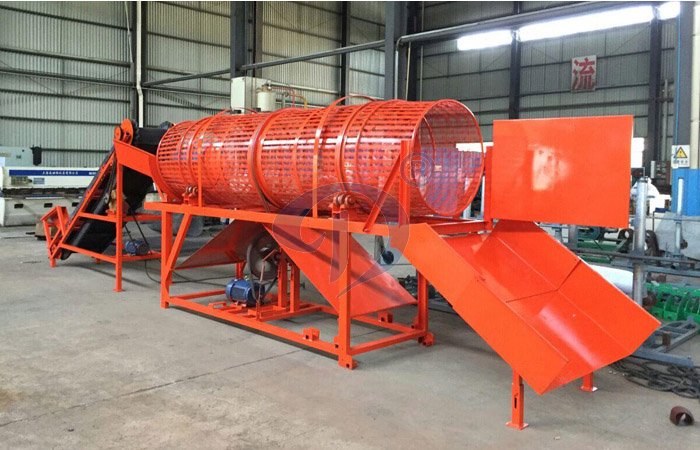 Cassava washing and peeling machine
c. Cassava chipping: The washed tubers are carted to the chipping machines where they are chipped into small chips of about 1-2 centimetre thickness and 6-7 cm long. The sizes at times depend on the prescription of the order.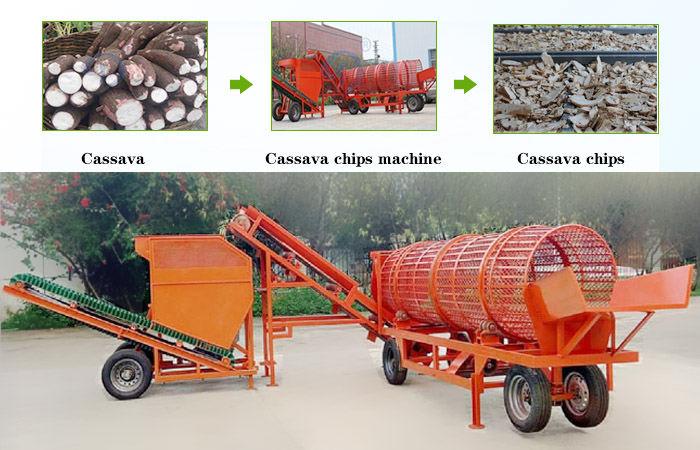 Cassava chips slicer machine
d. Cassava chips drying: The wet chips are taken to the Rotary Dryer where they are dried to 12-14% moisture content.
e. Packing: they are then weighed and bagged in 50kg polypropylene bags and stored.
Cassava chips slicer could produce cassava tubers into cassava chips. From this way cassava chips could be stored for long time. Our company are professional in manufacturing and sales in cassava chips slicer.
If you are interested in cassava chips slicer machine,please contact us when you are free,our engineer will give you a professional suggestion of cassava chips slicer machine,we will service you at 24 hours.
Please leave your contact information, our engineers will contact with you within 24 hours. Your information will not be published.