Cassava flour production process for cassava processing

Date:
2019-06-13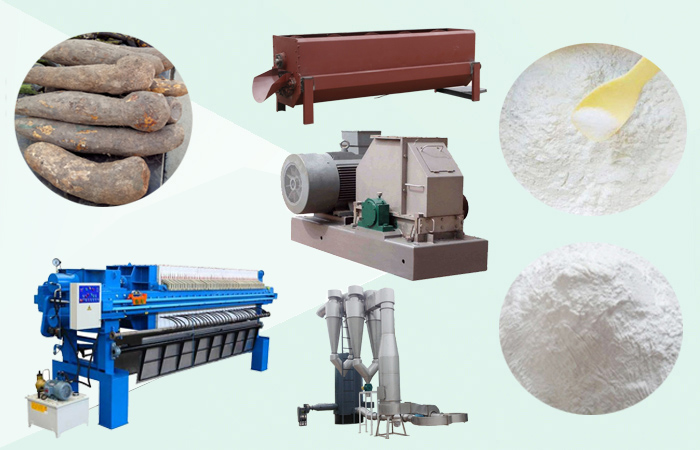 Casava flour production process is a physical process, for there is no chemical changes happens in the whole process. In cassava flour production process, the starch is firstly released from cassava through physical grating, then starch is extracted from grated cassava pulp that contains a lot of soluable and insoluble impurities, finally the pure starch is dried to market standards.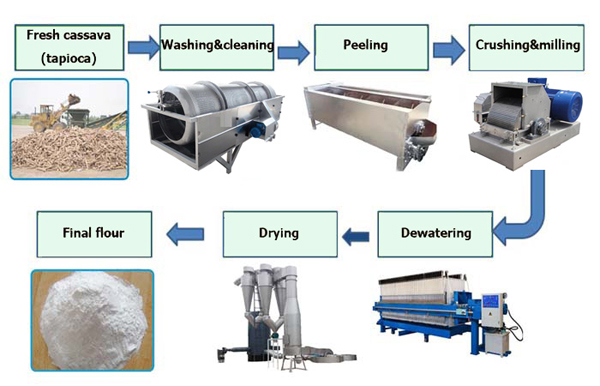 Cassava flour production process
Here, I will introduce you every steps of cassava flour production process:
Sorting and weighing section: Before processing, we need to choose high quality cassava for cassava flour production process, these intact with no damage will be better. Then we need to weight them and pail them on the ground.
Cassava cleaning and washing section: In cassava flour production process, weighed cassava should be cleaned to remove the attached impurities. If the cassava comes from sandy land, a dry sieve can clean it well. While if the cassava comes from clay land, our engineer can design a spray system at the end of the dry sieve to achieve a beeter cleaning effect. After clean, the cassava still have small dirts and soil, therefore we use a paddle washer to wash off these impurities.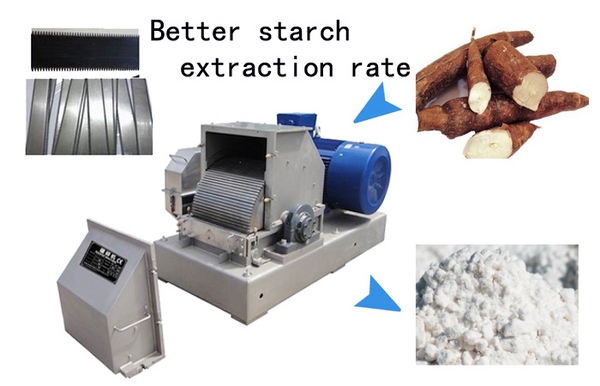 Cassava grater
Cassava grating section: There are two ways for cassava grating in cassava flour production process. Firstly, we can peel cassava first and then grate it. This method is fit for hammer crusher type grater. For peel cassava can ease the burden of grater and improve the grating rate. But now with a rasper, we can omit the peeling stage. For rasper can rotate with a high speed to fully break cassava cell and extract starch. Rasper is high in price due to its high efficiency, so you can choose one of them based on your budgets and demand.
Dewatering section: Dewatering happens in a plate frame filter press machine, where its moisture content is mechanically reduced to about 40%. 40% is a most fitable moisture for drying, therefore it is important to adjust its dewatering effect before cassava flour production process starts.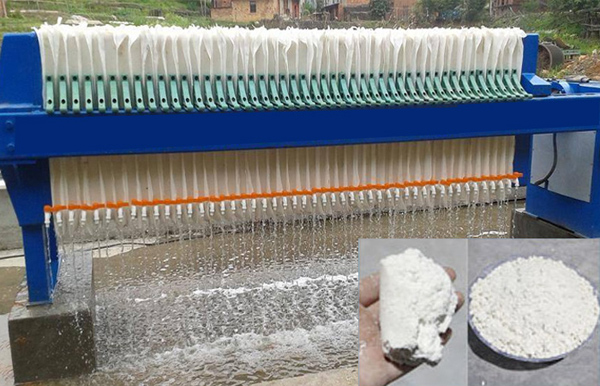 Dewatering machine
Drying section: In cassava flour production process, drying normally happens in air flow dryer where high speed air mix with wet flour for heat trandsfer. Normally drying process finish in 1-3 seconds, with a capacity of 2-10 t/h.
Milling section: The dried cassava flour sometimes are in block, so a miller can be used at the end of flash dryer to mill cassava flour into power.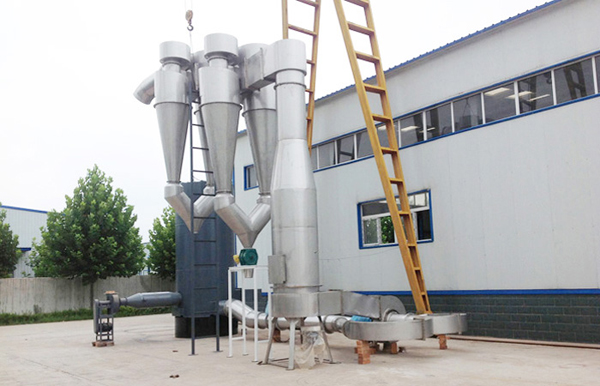 Air flow dryer
Sieving and Packaging section: For high quality cassava flour processing, sieving is necessary, for it can sieve off lager flour and make sure the left cassava flour finer and more delicate. And the last section in cassava flour production process is to pack cassava flour appropriately.
My company, Henan Doing Mechanical Equipment Co.,Ltd focus on cassava processing equipment import and export business. we are the professional manufcaturer of cassava flour processing line and the other cassava processing machine. We have exported many complete sets cassava flour processing line to Nigeria, Tanzania and other Africa countries. According to clients budget, we can adjust the cassava flour processing equipment list,and do our best to supply clients with most suitable cassava flour production process solution.
Leave a message about Cassava flour production process for cassava processing
Do you want to buy machine?
Yes, I want to buy machine
No, I Just learning
What is your raw material?
Cassava
Potato
Sweet potato
Others
2. What is the final product you want to produce?
Garri
Cassava flour
Cassava starch
Cassava chips
Attiekie
Bammy
Others
3.What is your capacity plan?
Small scale garri machine
1ton per day
2tons per day
3tons per day
10tons per day
20tons per day
Others
3.What is your capacity plan?
Small scale
5tons per day
10tons per day
20tons per day
50tons per day
100tons per day
Others
3.What is your capacity plan?
Small scale
5tons per day
10tons per day
20tons per day
50tons per day
100tons per day
200tons per day
300tons per day
Others
3.What is your capacity plan?
Small scale
Middle type
Large scale
What is your capacity plan?
Small scale
5tons per day
10tons per day
20tons per day
50tons per day
100tons per day
200tons per day
300tons per day
Others